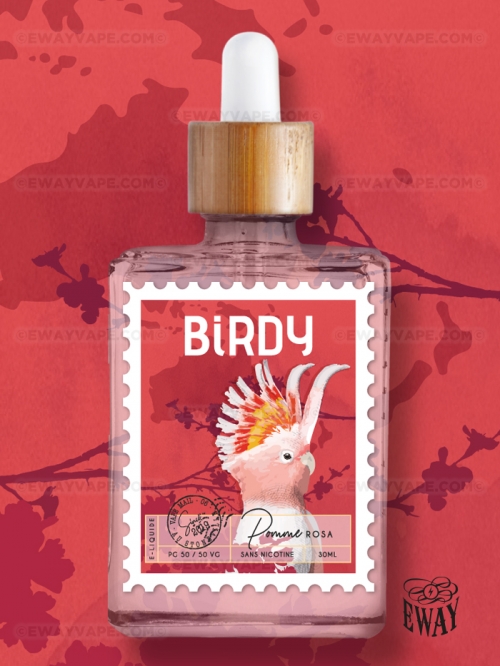  
Pomme Rosa 30ml - Birdy
The ROSA APPLE is native to Australia. It has a unique aromatic richness and an inimitable color. It was John Crips, an inspired researcher, who had the delicious idea of crossing two varieties of apple under the scorching sun of Stoneville. The Leadbeater Cockatoo made it his new daily feast. A vitalizing journey, a perfect balance between sugar and acidity. This forbidden fruit will become your cute sin!

Garanties sécurité (à modifier dans le module "Réassurance")

Fast Shipping
A very light touch of freshness accompanies the acidity of this true red apple recipe, crunchy and juicy!
Follow the graduation for adding a nicotine booster *.
(Neutral base optional)
For 0mg: 30ML of E-liquid + 20ML of NEUTRAL BASE = 50ML
For 3mg: 30ML of E-liquid + 5ML of Nicotine USP + 15ML of NEUTRAL BASE = 50ML
For 6mg: 30 ML of E-liquid + 15ML of Nicotine USP + 10ML of NEUTRAL BASE = 55ML
For 9mg: 30ML of E-liquid + 25ML of Nicotine USP + (No NEUTRAL BASE) = 55ML
related products
Boost your zero nic bottles with our 50/50 Nicotine Booster (20mg/ml) 
Boost your zero nic bottles with our 80/20 Nicotine Booster (20mg/ml) 
16 other products in the same category: